Gabs has been in the wars...
I've copied this from TNN, only because I'm shattered and after losing my post in General haven't got the puff to write another one.........
Gabriel has earned himself yet another facial injury. What is it with boys? So i know some girls get injured just as much, though Loralei didn't, she's had all but 2 bumps to the head in her life.
Here's his latest. Trying to climb out of the clamshell sandpit which he has done successfully dozens of times, but not this time:
His lump on the forhead (from smacking it on the edge of the cot) had only just gone down. He's split the little bit of skin that joins gum to lip, had 2 little black eyes (seperate occasions), and a couple of others.
...............................................
Oh, here we go, I do have a couple of other pics:
Can't remember how this one happened: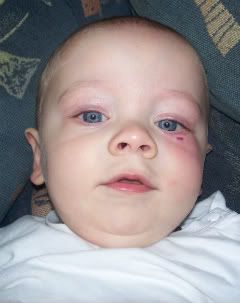 This is head V cot corner: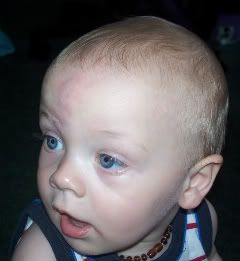 ........................
2 days after he smacked his lip on the concrete he was having a bit of a boogie at the new train table (he loves to boogie), and while doing a bit of hardcore headbanging he head banged the table, resulting in black eye #3 (just a little one tho), and that very night was boucing around in the highchair (naughty boy) having a bit of a tanty and smacked his lip 'again' on the edge of the table, honestly, I think this kid needs a helmet.